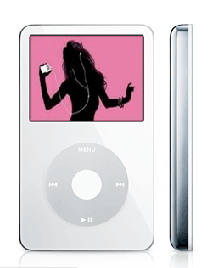 I am not necessarily a music-lover. I tend to get stuck on songs that I feel relate to my season of life. My iPod was a gift to me from my dh, and I didn't realize, since I'm not a music-lover, how much I would grow to love it.
I had my daughter at the doctor's office this week. My doctor's office is notorious for long waits. My kids are notorious for hating long waits. Before I left, I booted up iTunes, searched for Dora and Backyardigans episodes, purchased, and downloaded, within five minutes. When we were settled in the waiting room, I whipped out the iPod, handed it to my daughter, and she waited contentedly while watching her own private cartoons. She watched in the waiting room, the smaller waiting room (a la Seinfeld), the pharmacy, and the lab. Easy. iLove my iPod.
I am the emotional music listener. I get stuck on songs that I feel relate to my season of life. My profile song on myspace is constantly changing to reflect my daily life. Right now, I'm in the midst of a hellish summer, so Bananarama is belting out "Cruel Summer" while you read my blog. My iPod is the same way. Before I go anywhere alone, for a mom that is RARE, I make sure I have my signature songs ready to go with me, or I download some new one. I was going for coffee last week with my girlfriend, I downloaded some Prince and Nehneh Cherry to set the mood. My iPod is a reflection of my desired mental state.
I'm also the emotional exerciser. When I am stressed out, or dealing with some ridiculous drama, I must get on the treadmill and work it out. My iPod is my running partner. With the Playlist, I can arrange, delete, download, all the songs I need to pound out the drama. Lately it's been an opening of MJB "Grown Woman" and a closing of Simply Red's "Sunrise". All my exercise songs are waiting in that awesome little machine. My iPod inspires me to move.
Not only do I have "grown-up" music on my iPod, I have all the kids' favorites, too. Recently, I realized the car kit cord will reach to my older son's seat behind me in the van. Great! No more trying to find their requested tunes while I'm driving. That iPod is so easy to use, I hand it to my 6yo, and he's our deejay, playing requests and turning it up. My iPod is teaching him to figure things out and to enjoy making people happy by playing their song. How far will this take him in life? Who knows, but heLoves my iPod.
But, my iPod is not just about music. I can go into iTunes U and browse hundreds of lectures and talks about endless topics. I've downloaded subjects like early childhood learning, the life of Thoreau, how Starbucks changed the coffee industry, and the problems of airplane travel, all to listen to in bits and pieces while I wait for things to happen. Usually I'm at church, early for a meeting, or simply wanting to avoid conversation. I stick in the ear buds and I'm in college. It's awesome.
I've downloaded TV shows, interviews, and books. When I was leaving town for the weekend, my dh made a song with the kids and downloaded it secretly onto my iPod. While I was on the road, there was my family, suddenly on the playlist, reminding me they love me and to have a great time. I'm constantly browsing iTunes to see what's new, what's hot, what's free. That place is chock full of interesting items, and so, therefore, is my iPod. iLove my iPod.