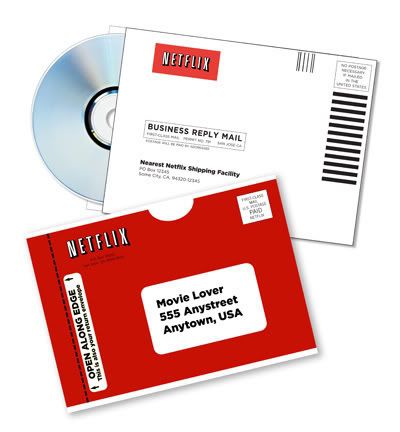 Netflix, how do I love thee? Let me count the ways.
Okay, but seriously, I do love Netflix. This is why.
The selection of movies on Netflix is so extensive I feel like I will never really see everything they offer. One of my favorite things to do is just browse Netflix. There is new, old, classic, all categorized, and all rated for me personally based on my ratings of what I've already seen. My queue is a wide variety of mainstream, independent, documentary, children and family. Whatever I'm in the mood for, Netflix has it. I have over 200 movies in my queue.
One of the best features is the automatic movie info window that pops up when the cursor hovers for a few seconds over the movie title. I have some obscure Bollywood movies in my queue, and in a few seconds I can see what the heck the name means, and the storyline. Then, as if that wasn't enough, when I add a movie to my queue, a new window pops up, telling me the movie was successfully added, and suggesting some other movies I might enjoy based on that selection. I can spend hours, I can spend days, browsing Netflix and never seeing it all.
And not only do they have it, but it's available NOW! I'm constantly in my queue, moving things around, knowing that whatever I stick at the top, most likely, I'll have it in my hot little hands in a day or so. Oh, but wait, now the Watch Instantly feature works on my PC, and that has opened a whole new window of options. (I had a Mac before, just bought my Compaq laptop.)
The other night, we put on a documentary, "Darkon", that we just couldn't get into. It was about the lifestyle of adults who role-play war in the country of Darkon. Most of the people grew up playing D&D and can't seem to let it go. We didn't want to waste a couple hours watching a boring doc, so we turned it off. But I was in the mood for a good documentary. I mean, come on, I had a fresh cup of coffee! As I went into my queue to move my next picks around, I planned to ship "Darkon" back as soon as it was light, I realized I could Watch Instantly! Yes! From my queue, which shows what movies are ready to watch NOW, I found a documentary that looked intersting. I plugged in my headphones and happily settled into "The Business of Being Born", Ricki Lake's doc comparing maternity and birth experiences at a hospital to those at home with a midwife. I was totally immersed in maternity wards, racing around with the midwife, and I even got to see Ricki Lake have her baby in her own bathtub! All this while I sat on my couch, cradling my laptop. When it was over, I went back to Netflix, rated the doc (5 stars), removed it from my queue, and noted that my dh seemed very relieved he hadn't had to watch it with me.
On Sunday nights, my family likes to watch Nature on PBS. Sometimes it's a rerun, or something we don't find that interesting. Netflix has a variety of educational nature offerings. We can plan our homeschool lessons around videos we get, or the kids can watch instantly on the pc if they see a movie that interests them. The other day, they were in the mood for some Charlie Brown. We booted up, and there was the Peanuts gang waiting for us at Netflix. The kids were happy, and so was I because I got to make dinner uninterrupted.
Netflix is amazing. In case you don't know, the company was started by a very wealthy man who didn't want to pay late fees at Blockbuster. He eventually wanted to sell-out to Blockbuster, but they refused, instead setting their star upon Enron and some dvd rental mail/pc scheme they had cooked up. We all know what happened to Enron (if you don't, watch "The Smartest Guys in the Room", Netflix has it.) Now, Blockbuster has attempted a Netflix-esque program, and I once had an account with them. It totally sucked. Movies were never available, we waited an eternity for movies in the mail, got reminders for movies we had already returned, that kind of nonsense.
Netflix is far above and beyond any other company for movie-watchers who want to see everything available as soon as possible. That's me, and that's why I love Netflix.